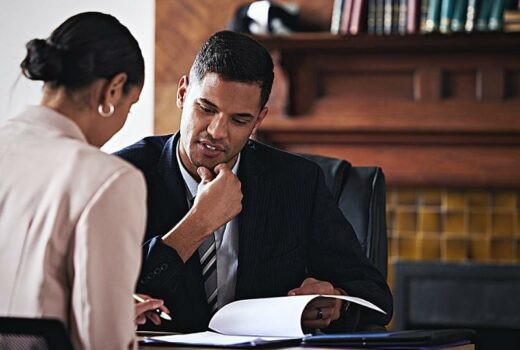 Aside from becoming a lawyer or attorney, a law degree opens up many career opportunities. You have the option of venturing into non-legal industries, such as business, finance, clerical and administration, customer service, law enforcement, and the healthcare sector, after graduating from law school.
The jobs you can get with a law degree include a paralegal, patent attorney, chartered legal executive, company secretary, or licensed conveyancer. You can also work as an insurance underwriter, mediator, local government staff, political risk analyst, stockbroker, town planner, tax adviser, or stockbroker.
To advance from a law student to a lawyer, you must demonstrate that you understand legal obligations and implications of legal issues. More importantly, you must show you know how and where to apply the acquired legal knowledge.
Lawyers Versus Attorneys
A lawyer is someone who has completed law school but has not taken the bar exam. An attorney, on the other hand, is a legal professional who has graduated with a law degree, passed the bar exam, and earned a practicing license. A lawyer can, however, opt to pursue different career paths based on his or her ambitions, interests, and life plans. A lawyer can also work as a legal consultant or adviser outside the courts.
Types of Law Degrees
A bachelor's degree is the minimum requirement for pursuing a law degree in the U.S. The law degree you choose will depend on your career goals and aspirations.
Juris Doctor (JD) Degree
You must pursue a JD degree and pass the bar exam to become an attorney and practice law in the U.S. This degree takes three years if you are a full-time student, and up to four years if you are a part-time student.
A bachelor's degree is one of the requirements for starting a JD degree. The JD degree allows you to focus on areas that suit your career goals and personal interests during your second and third years. These areas include the following:
Finance and Banking Law
This area of law prepares law school graduates to work with financial lenders and banking institutions. The duties of these lawyers include data security and advising banks and clients on new and existing banking compliance regulations. They also represent banks in disputes with clients and other banks.
International Law
International law is a field of law that focuses on cases involving international organizations, foreign companies, and other nations. This legal specialty assists private and public entities in pursuing justice on cases spanning across borders.
International law lawyers serve large corporations, such as telecommunications, banks, and overseas law firms. These legal experts are often required to have a mastery of international languages.
Criminal Law
Criminal law addresses the legal challenges faced by citizens accused of crimes. Criminal justice lawyers represent defendants in the courtroom and before juries. The attorney protects the constitutional rights and interests of the accused person. That helps reduce the criminal charges faced or trump them altogether.
Of course, criminal law further gets categorized into other specializations. For example, some lawyers focus on homicides, murders, and drug crimes. Others concentrate on financial fraud felonies. You must be knowledgeable in local, state, and federal criminal laws to thrive in this niche.
Entertainment Law
This law specialty involves working with entertainers, artists, and athletes to secure rights and royalties. A lawyer can choose to focus on sports rights or music copyright.
This area requires the attorney to stay updated on the latest royalties and rights issues. These lawyers defend athletes from contentious clauses in contracts. They also represent artists involved in copyright infringement cases.
Real Estate Law
This field of law prepares legal professionals who handle landlord disputes, tenant rights, construction litigation, ownership, and development issues. These lawyers help commercial, residential, and individual clients review housing and planning contracts, and execute property sales. They ensure that the client's real estate complies with local and state regulations.
Master of Laws (LLM)
You can pursue this graduate degree after earning your JD if you wish to gain more knowledge in a specific field of law, like entertainment law or finance and banking law. You can complete this program within a year.
Doctor of Juridical Science (SJD)
An SJD is the highest level of law degree you can pursue in the U.S. You can complete this degree within three to five years if you are a full-time student. A part-time student will require at least two additional years to complete this program. You must have a JD degree and an LLM to be eligible to pursue an SJD. Career opportunities for most SJD graduates are in academia, research, and legal writing.
What Types of Law Can Attorneys Practice?
A law degree opens the door to many practice areas. The following are the most common law practice areas:
Corporate Law
A corporate law attorney helps organizations comply with local, state, or federal legal guidelines. The attorney handles mergers and acquisitions, patents and intellectual property, risks, and liability. You need a law degree and a business law certification to qualify as a corporate law attorney. Of course, you also need to have passed the bar exam.
Bankruptcy Law
You must be conversant with U.S. bankruptcy laws to practice in the bankruptcy law area. Also, a solid understanding of the state-specific laws on commercial and consumer bankruptcy is necessary.
Tax Law
Attorneys who practice tax law enable individuals and businesses to stay compliant with relevant tax codes and regulations. Tax laws get amended from time to time. As a tax law attorney, you can help your clients comply with the revised IRS tax regulations. You can also protect your clients from hefty fines and penalties that result from tax non-compliance.
Criminal Law
You can find a job after law school to work as a prosecutor or defense attorney in the criminal justice system if you focus your studies on criminal law. A criminal defense attorney represents the rights and interests of defendants faced with criminal charges.
A defense attorney spends most of his or her time in the courtroom, serving as a private attorney or public criminal defender. As mentioned earlier, these attorneys can specialize in different criminal law categories, such as homicide, drug crimes, or violent crimes.
Constitutional Law
These attorneys interpret and provide a balanced legal direction on constitutional matters. They investigate the legalities of certain laws as per the U.S. Constitution. This practice area is ideal for detail-oriented legal minds with a penchant for lateral thinking. Attorneys who focus their practice on constitutional law usually get absorbed in higher learning institutions or top-brass government agencies.
Family Law
A family law attorney spends his or her time dealing with laws on family matters and domestic relations. The attorney handles cases revolving around divorces, child support, adoption, domestic violence, and child custody.
Labor Law
These attorneys act as legal intermediaries between employees, unions, and employers. They offer legal guidance on poignant matters, such as salary disputes, workplace discrimination, safety, working hours, and employee benefits among others. They ensure employers comply with labor laws. They also help companies formulate and review their policies.
Estate Planning Law
These attorneys advise on estate planning issues like trusts, property rights, and wills. They ensure that the client's assets pass on to the rightful parties. They assist the client in drafting an incontestable will, while also helping the client to evaluate the assets.
Immigration Law
The immigration sector presents an opportunity for fresh law degree graduates. These professionals handle the countless immigrant cases filed by individuals and families seeking U.S. citizenship every year. Immigration lawyers rank among the highest-earning lawyers as of 2022.
Personal Injury Law
More and more lawyers are specializing in personal injury law. There are thousands of civil litigations and cases where individuals suffer injuries and damages due to the fault of others. Personal injury attorneys handle a wide range of common cases, such as auto accidents, medical malpractice, and even work-related accident claims.
These attorneys must be well-versed in carrying out forensic investigations. Also, they must be shrewd negotiators and litigators for favorable outcomes, whether claims get resolved through an insurance settlement or lawsuit process.
Intellectual Property Law
A law school graduate can also build a career around intellectual property law. These legal professionals protect the patents, inventions, and ideas of individuals and businesses. They assist clients in settling trademark, distribution, and copyright disputes.
An intellectual property attorney must have a complete understanding of the state's licensing regulations and trademark policies. The attorneys, therefore, must obtain an intellectual property certification after completing law school and passing the bar exam.
Medical Malpractice Law
Many people continue to suffer lifelong injuries due to the negligence of medical practitioners and healthcare facilities. This presents an opportunity for medical malpractice attorneys to earn a living by representing the victims of botched surgeries, wrong medication prescriptions, and other forms of negligence by doctors and other healthcare professionals.
Environmental Law
The demand for environmental law attorneys versed in environmental policies and guidelines has risen. That has led to many law school graduates venturing into environmental law. This profession does not bring in lots of money, even though lawyers perform the crucial work of protecting the environment from adverse business and government policies.
Fortunately, however, the attorneys who sign up are green planet warriors only interested in saving the planet. These attorneys also pursue settlement claims for persons harmed or injured due to environmental law infringements.
Workers' Compensation Law
These attorneys deal with workers who sustain injuries or develop an illness on the job. An employer or another employee may be responsible for the accident that caused the injury or illness. The fault may also be apportioned to other parties, such as suppliers.
These lawyers arbitrate lawsuits involving workplace accidents resulting in damages and injuries. They assist the client to get compensation to cover damages and losses stemming from their work-related injuries.
Benefits of Working in a Law Firm
Working in a prestigious law firm is a dream come true for many lawyers in their quest to make partner. The pay is great, and the workflow is guaranteed. You get exposed to high-profile cases. It boosts your reputation and credibility. You also receive firsthand training and experience in your preferred practice area.
Working in a law firm allows you to participate in corporate social responsibility actively. You can, for instance, offer pro bono legal counsel to indigent clients.
What Is the Experience of Working in a Law Firm?
The overall work experience depends on several factors, including the legal specialty, law firm size, and the culture of the law firm.
Law Firm Size
In small law firms, the lawyer can expect to handle any lawsuit presented by clients. The lawyer can be assigned a personal injury case, misdemeanor, or traffic offenses cases. Such law firms lack job security, as the company may go under at any time.
In larger law firms, the lawyer's job is secured and has plenty of bonuses and perks. Lawyers work on an agreed profit-sharing plan. For instance, the law firm takes a certain percentage of the lawyer's earnings. The lawyer gets to rise through the ranks and impact the firm's strategy and structure.
Finally, there are the big firms. Working at the biggest law firms means high salaries and perks. It boosts your resume. The job may, however, be demanding and even stressful.
Practice Area
The practice area pursued also influences the overall work experience. Some practice areas, like criminal defense law and personal injury law, are full-time engagements. You must be ready and content with receiving midnight calls and strict deadlines.
Law Firm Culture
Ideally, you look forward to joining a law firm that exemplifies your core values and aspirations after graduating from law school. You must research the company culture before accepting an offer. Working in a toxic law firm can prove detrimental to your mental state. It can also dampen your future career prospects.
Partnering with a legal recruiter can bolster your chance of finding a law firm with the right cultural fit. The recruiter can, for instance, connect you with a law firm with a work from home lawyer job.