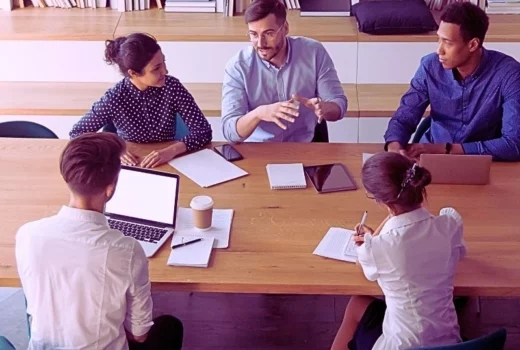 According to data collected by ALM Intelligence, the percentage of equity partnerships across the Am Law 100 has been declining for the past ten years, with the percentage of non-equity partnerships steadily increasing.
In a recent article, "Being a Law Firm Partner Was Once a Job for Life. That Culture Is All but Dead," Sara Randazzo, writing for the Wall Street Journal, reports on recent trends in Big Law partnership and profitability over the past decade. ALM Intelligence's data revealed that the equity tier was roughly 78% larger than the non-equity tier in 2008. Now, it's only 27% larger. The conventional explanation for the growth of the two-tier system is that it produces higher profits per equity partner, thus solidifying the prestige of the law firm and improving its ability to attract the best legal talent, the article highlights.
As Randazzo reports, the newly demanding and data-driven model of the law firm has changed the culture of the business entirely. "Being named a partner once meant joining a band of lawyers who jointly tended to longtime clients and took home comfortable, and roughly equal, paychecks. Job security was virtually guaranteed, and partners rarely jumped ship. That model, and the culture that grew up around it, is all but dead. Law firms are now often partnerships in name only," Randazzo notes. "At the modern law firm, not all partners are created equal, and data and billings rule. In the new paradigm, lawyers are expendable, and partners may jump to a competitor for the right amount of money, taking clients with them on the way out," Randazzo adds.
What Is a Non-Equity Partner?
A non-equity partner is an individual who is entitled to a fixed share of partnership profits. Additionally, a non-equity partner may not have to pay into partnership losses, depending on the terms of the partnership agreement.
Unlike an equity partnership, a non-equity partnership is not ownership of the company. It is more of a title, like partner, principal, or shareholder. A non-equity partner does not have to invest in the company's capital, and are paid in terms of a salary.
Non-Equity Partnerships Criticized
The rise of non-equity partnerships has been criticized on a number of grounds. Most significantly, as noted in the article, it lets equity partners jack up the billing rates of non-equity partners, often to north of $1,000, without having to share the wealth with them (or take a hit in their "profits per partner" rankings, which consider only equity partners). "No firm embodies the changes more than Kirkland & Ellis," Randazzo reports. "Over the past decade, Kirkland has become known for making high-price offers to rising stars at competitors, for $10 million a year or more in some cases. It has embraced the two-tiered partner system, made up of a junior class paid a set salary and an inner circle of equity partners, who split the firm's profits. The changes have pushed the spread between Kirkland's highest- and lowest-paid partners to 43-to-1. Among its equity partners, the spread is nearing 9 to 1," (as quoted in The Wall Street Journal).
According to another article by Law.com, some law firms are still holding on to the old partnership ethos even as the world changes around them. A handful of law firms including New York-based Cleary Gottlieb and Cravath Swaine & Moore still operate under a lockstep compensation system, which pays partners in a relatively tight band based on seniority, rather than how much revenue they bring in. At the same time, some law firms are new to the idea of a two-tier partnership. Simpson Thacher & Bartlett and Willkie Farr & Gallagher both reported the presence of non-equity partnerships—seven and 10, respectively—for the first time this year. Law firm leaders said, "The move is intended to reward promising young lawyers earlier and make the firm more competitive in recruiting," (as quoted in Law.com).
See highlights from the full article on The Wall Street Journal.
Contact Bill Sugarman for more information.