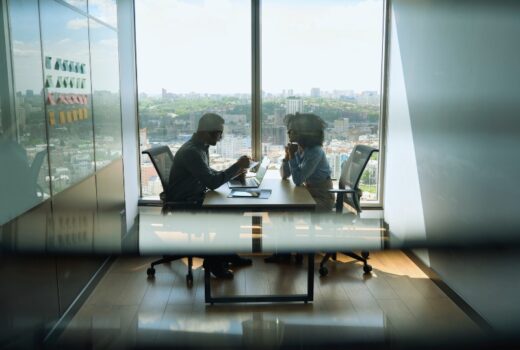 Attorney candidates looking for new legal positions or considering making a lateral move might want to know the benefits of working with an attorney recruiter. Also known as a legal headhunter, an attorney recruiter handles a candidate's job application, recruitment, placement, and onboarding processes. These recruiters match legal professionals like paralegals, mediators, arbitrators, and associate attorneys with law firms and other companies looking for legal talent.
What Does an Attorney Recruiter Do?
An attorney Recruiter helps match attorney candidates with law firms or companies that suit their career goals and aspirations. The recruiter assists with formal job applications. On top of polishing up the resume, the recruiter also prepares candidates for the main interview.
Attorney recruiters help to tilt the employment chances in your favor. They help you get shortlisted for interviews by consistently following up with hiring managers of law firms and other companies.
How to Select a Recruiter
Graduating from a law school is half the journey. One still needs to navigate the complex legal job market to secure clients for his or her legal services. As a newly admitted attorney, you need to work with a legal recruiter to simplify and hasten the job search and placement process.
There are several avenues to find the best legal headhunting firms in your state or region. These include going online to research the top-rated headhunters near you. You can also rely on word of mouth to get legal recruiter leads. Alternatively, you can seek recommendations from college mates or relatives who have worked with recruiters in the past. Use the following tips to find the right attorney recruiter for your unique needs:
Explore Options
Identifying the right legal recruiter from the many available options is often daunting. Patience is vital. Don't settle for the first promising placement agency you encounter. Instead, explore various options until you find a tried, tested, and proven legal recruitment firm.
Stay Local
Always work with local headhunters. These recruiters have a solid understanding of the nuances of the local legal hiring market. They also build personal relationships with the HR heads of local companies or organizations. What's more, staying local ensures a speedy job placement process.
Talk to Previous Clients of the Legal Recruiter
Always confirm the references provided by the legal recruitment agency. Speak to a few of its customers to get a glimpse of the expected job-hunting experience.
Exclusive and Non-Exclusive Legal Recruiters
Law firms and headhunters can enter into an exclusive recruitment arrangement. Here, the recruiters get sole rights to hunt for the talent to fill the open vacancies. Conversely, legal organizations approach different recruitment agencies to fill the slots (non-exclusive recruitment arrangement). In both cases, the hiring party compensates the headhunters either on a one-off deal or a salary basis.
The type of recruiter to choose depends on whether you are searching for an in-house or law firm position. An exclusive legal recruiter can be a perfect choice if you are looking for an in-house legal job. A non-exclusive recruiter, on the other hand, is ideal for those looking for law firm positions.
Services Offered
Services offered by a legal recruiter is also a crucial consideration during the selection process. Legal headhunters offer several services to improve a candidate's chances of securing legal jobs. Some of these services include:
Strategic planning on how best to achieve your career goals and dreams
Polishing your profile cover letters and resumes
Creating stand-up job applications that perfectly line up with the employer's needs
Timely submission of job applications and follow-ups
Preparing candidates for the interview
Knowledge of Job Requirements
An experienced headhunter knows the on-demand job requirements of leading employers. That information informs your decision to apply or skip the application. So, ensure you select a legal recruiter with an in-depth understanding of the job requirements of the law firm you want to join.
Can You Work with more than One Legal Recruiter?
You only need one recruiter when chasing down top-tier legal positions, such as attorneys or attorney assistants. A competent legal recruiter monitors your job applications and keeps you updated.
Working with more than one legal recruiter is a brilliant move, especially when applying to in-house law firm positions. If you get lucky, one of the many legal recruiters representing your interests may have a personal connection with the hiring manager of the hiring firm.
Advantages of Working with a Skilled Attorney Recruiter
Aside from making it easy and quick to land the next dream job, other benefits of working with an attorney recruiter include:
Industry Awareness
A seasoned attorney recruiter understands the latest industry trends. The recruiter guides you from the application to the final hiring and onboarding stages. These service providers know the law firms that could be interested in candidates with your particular legal skills. Furthermore, the headhunters guide you through every step of the hiring process.
Resume Refining
In most cases, candidates do not miss out on getting hired due to a lack of skills. Some get disqualified for having bland-looking resumes. A good recruiter will fine-tune your resume to meet the job requirement needs. Only collaborate with skilled headhunters for an impressive first impression. That gesture effectively increases your likelihood of landing a legal job.
Interview Prepping
Preparing for the interview with your legal headhunters helps to build your confidence. Together, you go through the expected questions and discuss the best responses. A legal recruiter can help you understand how to prepare for a law firm interview.
Timely Insights
Often, you will not learn of open legal positions until they have long been filled. Choose the best legal recruiter for a more efficient job hunt.
Exceptional Results
Legal recruiters connect clients with the best-fit candidates. You stand a better chance of securing your dream legal job with a skilled recruiter than on your own.
Salary Negotiations
Most new attorneys need to learn their worth, especially beginners. A recruiter helps to bridge this information gap. The headhunters inform you of the expected salary and, if possible, negotiate better pay.
Learn About the Job
Partner with legal recruiters to learn the job's core duties, responsibilities, and salary range. Collaborate with these agencies to learn when and why this position became vacant.
Learn About the Employer
Attorney recruiters are always given unlimited access to their client's company profiles. Take advantage of this avenue to learn more about the employer's liquidity, background, CSR, and company culture. Capitalize on that information to make better career decisions.
How Do You Get Noticed by the Leading Legal Recruiters?
Getting noticed by a respected legal recruiter boosts your career prospects. Here are some ways to get a recruiter to notice you:
Take Advantage of Social Media
Use social media to nurture meaningful professional relationships with industry peers to improve your profile visibility. Have an updated LinkedIn profile detailing your past and present accomplishments.
Improve Your Visibility
A robust social media and online presence validate your credibility with potential employers. That digital footprint allows potential employers to learn about your accomplishments and personality. Publishing your research and work in respectable legal journals can improve your visibility. Giving keynote speeches in universities also helps you get noticed by legal headhunters.
Questions Asked by the Legal Recruiters
What Is Your Legal Experience?
Typically, the more experienced candidates get priority for interviewing and hiring considerations. As a beginner, pair up with accomplished recruitment agencies to stand a better chance of getting hired in the highly competitive legal market. These agencies help you convince an employer that you are a good fit despite having little experience.
What Are Your Job Expectations?
The recruiter needs to understand your career goals and visions before matching you with law firms with open positions.
What Is Your Expected Pay?
This discussion centers around the expected pay for the legal position. Here, the candidate opens up on his or her desired benefits demands like life and health insurance.
How Long Are You Available for Work?
Inform your legal recruiter about your availability. For instance, you may only be available for six months. Or, you can only work with the company for a year.
What Are Your Preferred Locations?
The recruiter might also ask about your preferred working locations. Some attorneys insist on only working in urban settings, while others do not mind practicing in a small town.
A top-notch legal recruiter is an indispensable asset for new and returning job applicants. A recruiter develops a tailored recruitment process that best suits the employer's and candidate's needs. The recruiter utilizes his or her industry connections to ensure you land a dream legal job without all the hassles.
As an attorney candidate, you should perform due diligence to find the best legal recruiter. The best thing about legal recruiters is that you do not pay a dime for essential services. That means that everything from polishing the resume to interview preparations is free. The law firms or companies looking for attorneys and other employees are often responsible for paying those fees.