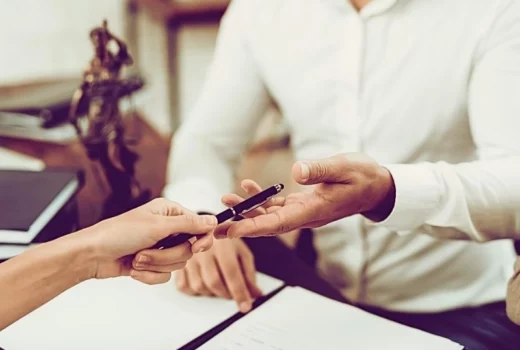 Doing your due diligence, sharpening your professional profile, and increasing your visibility are key strategies for how to get a legal recruiter to notice you. You can also improve your chances of attracting the attention of the right legal recruiter by building meaningful relationships and increasing your profitability. Positioning yourself as a standout legal candidate can also increase your chances of getting noticed by the best legal headhunter.
It is best to know how to get a legal recruiter to notice you, even if you are a passive candidate. You never know when you will need to change jobs for personal or professional reasons. You might, for instance, need to reduce your work hours to care for your young children or ailing parent. You might also want to increase your compensation or chances of becoming a partner.
What Is a Legal Recruiter?
A legal recruiter, sometimes known as a legal "headhunter," is a hiring professional who helps in top-quality legal talent's search and hiring. The recruiter helps law firms and companies fill open legal positions.
The legal recruiter evaluates, predicts, and determines the client's unique hiring needs. The recruiter then develops a recruiting process that suits those needs. The recruiter oversees the whole recruiting process to ensure the hiring of the best candidates.
A legal recruiter builds and maintains a pool of the best legal talent. The recruiter identifies these candidates through professional connections with industry partners, online recruiting platforms, and social media campaigns. A legal recruiter may work for an individual law firm or a legal search firm.
Legal recruiters usually earn search fees after successful employee placements. These fees are paid by the employer, rather than the candidate.
The Law Firm Recruiting Process
Hiring Need Identification
The law firm recruitment process starts with the identification of the hiring need. A recently vacated position, increase in workload, and addition of a new practice area can create this need. Simply put, positions in a law firm are usually recently vacated or newly created.
Recruitment Plan Development
A law firm working closely with a legal recruiter creates a recruitment plan upon identifying a hiring need. This step involves developing strategies for popularizing the open position and procedures for screening and interviewing candidates. It also involves setting up the interview panel.
Job Description Generation
This step involves the hiring team creating a job description for the opening. The description outlines basic job qualifications, special requirements, preferred characteristics, and necessary experience. It also includes a summary of the compensation package for the position.
Candidate Searching
A law firm may want to fill a job opening internally. In this case, the hiring team will inform current staff members of the open position. The hiring team will conduct all its candidate searches internally. The hiring team may notify current staff members of the opening, even when searching for external candidates. The staff members will share the information with their contacts, attracting more quality applications.
The law firm may also outsource the candidate search task to legal recruiters. Legal recruiters usually have a regularly updated pool of legal talents. They help quality candidates secure positions that match their career goals.
Law firms may prefer working with legal recruiters, as they convince passive candidates who may be a perfect fit for the position to submit their applications. The best legal recruiter runs the search process effectively and improves the odds of successful placement. So, candidates must know how to choose the best legal recruiter for their unique job-hunting needs.
Applications Review
Law firms usually have a system for receiving applications from interested candidates. It can be something as simple as an email or an advanced system like applicant tracking systems (ATS). The review process generally starts with talent-management software that reviews applications to create a list of qualified applications. The hiring team then reviews those applications to create a short list of the most qualified candidates for interview purposes.
Initial Interviews
Initial interviews involve the hiring staff screening the applicants over the phone. These interviews help the hiring team determine whether the applicants have the required qualifications for the open slot. They also help determine whether the applicants are a perfect fit for the firm's culture, mission, and values. Initial interviews help narrow down the list of qualified candidates.
Interviews
This stage involves the hiring team scheduling interviews for candidates on the short-list. The number of interviews scheduled depends on the size of the law firm and hiring panel. Interviews are usually face-to-face chats between the candidates and the hiring panel. These chats concentrate on the candidate's expertise, skills, legal background, and availability.
Some law firms may conduct additional interviews between the candidates and the senior leadership team. These additional interviews are comprehensive, and only a small batch of top candidates are invited.
Background and Reference Check
This phase involves gathering information about the candidate from other sources. A background check helps the hiring team determine if a potential hire is unfit for a position because of a criminal record, traffic law violation, or poor credit record.
A reference check helps verify a candidate's work history and academic qualifications. It may also help the hiring team acquire more information regarding the candidate's competence and personality. This check usually involves talking to the candidate's former employers, colleagues, and educators.
Job postings often indicate whether background and reference checks will be necessary. Applicants should carefully review the job postings to understand what is expected of them from the onset.
Job Offer
The hiring team determines the best candidate upon completing the background and reference checks. The team may also choose a backup candidate. That way, the hiring team will have someone to turn to if the first choice rejects the offer or negotiations are unsuccessful.
The initial job offer letter contains detailed information about the position, including start date, terms of payment, work schedule, paid vacation, and terms of employment. Some contents of the initial offer letter are negotiable, while others are non-negotiable. Payment terms and work schedules, for instance, may be negotiable.
Hiring and Onboarding
The candidates get hired after accepting the job and signing the offer letter. A signed offer letter commences the process of completing and filing employment-related documents. Onboarding marks the end of the recruiting process. It may involve welcoming the new staff member to the law firm and providing him or her with a clean, well-equipped workspace. It may also involve assigning a supervisor or mentor to the new staff member.
How to Stand Out from Other Candidates
Do Your Due Diligence
Start by researching your current legal market and the market you intend to join. Decide on your target market based on the available opportunities at any level, including partners, associates, and in-house counsel. Some markets will be constantly looking for talents to fill open positions. Others will go for a longer period without having an open position.
Consider targeting markers where law firms have more open positions than interested candidates. Try to be flexible when choosing the legal job market to target. That way, you will have access to more open slots.
Research the law firms offering the position you intend to apply for as well. Find out the skills and expertise the law firm values. You can get this information by visiting the firm's career page. A review of the job posting can also give you a hint of the ideal candidate. Find out the firm's management style and culture to determine if it's the right fit for you. You can get information about a firm's culture by checking out its social media page. Legal recruiters working with that law firm can also be valuable sources of that information.
Hone Your Professional Profile
After identifying your target legal job market, you should embark on building a strong profile that sets you apart from other candidates. Update your resume to fit the requirements of your target position.
Show commitment and leadership in performing your job duties. Work on high-profile legal matters that attract the attention of people inside and outside your law firm. Don't worry if you do not have any high-profile cases. Instead, volunteer your services to other departments within your law firm with such cases.
Increase Your Visibility
Improving your visibility helps you stand out as a reputable attorney. It also helps you get noticed by your colleagues, prospective employers, and legal recruiters. You can position yourself as a thought leader by publishing well-researched, informative articles on your firm's blog page.
You can improve your visibility further by getting your work published in local journals. Participating in local and national events as a keynote speaker is another reliable way to increase your visibility.
Build and Increase Your Online Presence
A robust online presence helps strengthen your credibility. It also helps potential clients, employers, and recruiters access information about you and your legal services effortlessly. Social media platforms, like LinkedIn and Twitter, can be instrumental in building a strong online presence.
A customized, regularly updated LinkedIn profile can act as your virtual CV. Potential employers and legal recruiters can learn more about your accomplishments in your current position by just checking your LinkedIn profile.
A professional LinkedIn profile indicates that you are an attorney who knows the value of marketing and generating business. The content you share on your LinkedIn profile can reach both those inside and outside your network. All it takes for your content to gain a wide readership is someone in your network liking or sharing it.
You can also build a strong online presence on Twitter. All you need to do is to consistently post relevant, up-to-date, and valuable information. You can also share current trends in your local legal market. Be sure to use relevant hashtags to make your profile easy to find.
Creating a website is another great way to enhance your credibility and increase your online presence. A well-designed website shows that you take your job as an attorney seriously. Use search engine optimization (SEO) to optimize your website and make it visible to those looking for your area of expertise. Including testimonials and reviews from your current and past clients can further boost your credibility and catch the attention of legal recruiters.
Nurture Meaningful Relationships with Recruiters
Attorney candidates should build and maintain strong, professional relationships with their legal recruiters to increase the chances of effective search and successful placement. Communicating regularly with your select recruiters is a good place to start.
Pick up recruiter calls even if you are not searching for an open position. Be helpful whenever you interact with your select recruiters. You can share with them insights regarding the current market conditions. You can also help them find the best talents by providing quality leads.
Discussing your professional goals and what can help you achieve them can also help nurture a meaningful relationship with legal recruiters. Be honest and straightforward in all your dealings with recruiters. Invite them to your events. Introduce them to your colleagues and make them feel comfortable. The more a recruiter gets to know you, the more the recruiter will be eager and committed to helping you realize your career aspirations.
Be Profitable
Legal recruiters are always looking for attorneys with profitable legal practices. Large law firms prefer attorneys who can generate business. Focus on sharpening your basic and core skills during the early stages of your career.
As your career progresses, you should strive to nurture skills in unique practice areas. You should also transition from handling simple legal matters to more challenging projects. Build a client-centered legal practice. You can do that by performing quality legal work and offering service that meets the unique legal needs of your clients.
Ask your clients to leave feedback, so you can determine whether you are satisfying your client's needs. Use the feedback to improve the quality of your services. Satisfied clients often translate to new business and increased profitability.