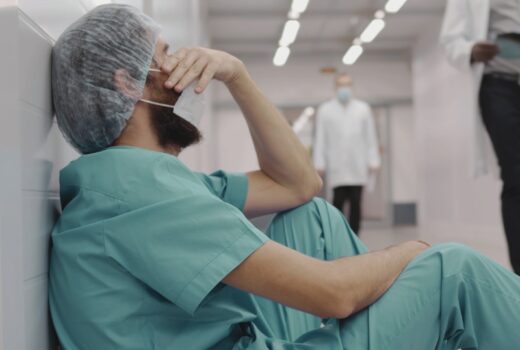 People weighing their career options in Chicago, Illinois, might wonder, "Is it harder to become a doctor or a lawyer?" Both occupations have their own set of pros and cons. Law school takes at least three years to complete, while medical school takes at least four years to complete. Lawyers solve legal problems for their clients, while doctors solve medical problems for their patients. They both review information about their client's legal issues or their patient's medical conditions, and make determinations based on the facts of each case.
Law School vs. Med School
The med school vs. law school debate can be challenging when thinking about your future career. Both careers can offer rewarding and fulfilling benefits, but each field faces different challenges. The acceptance requirements and test score requirements also differ.
Acceptance Requirements
There is a set standard of requirements for admittance into law school. You must have at least an undergraduate degree, GRE or LSAT admission test results, and recommendation letters to improve your odds of getting into the shortlist. A resume and personal statement are also necessary during the application.
Some law schools have accelerated programs that can help you earn a law degree in a shorter period. While there are no mandatory courses to take before law school, possessing certain skills can help show that you are ready for law school. These skills include problem-solving, research, writing and editing, and organization management.
Most law schools require you to include your past accomplishments and actual experiences in the personal statement. The statement can help you answer questions regarding the application. It helps convey your interest in wanting to join a particular law school.
Letters of recommendation can help demonstrate your soft skills and experience. You need two or three recommendation letters from someone who worked with you professionally or academically.
U.S. medical degrees are considered second-entry. So, you must complete an undergraduate degree in any related science subject, like chemistry and biology.
The general requirements for medical school are a high school diploma and an undergraduate degree in a related field. A GPA of at least 3.0 and recommendation letters are also necessary.
Required Test Scores
Currently, there is no minimum undergraduate GPA requirement for law school. However, a GPA above the median GPA of the incoming class at the specific school you are trying to join is a must-have.
The journey from a law student to a lawyer begins when you sit for the LSAT (Law School Admissions Test). An LSAT helps test proficiency in areas relevant to law. It focuses on writing, argumentation, analytical, reading, and comprehension skills.
The LSAT comprises 175 questions, with raw scores converted to a 120 to 180 scale range. Law schools that do not require applicants to submit to this test offer GRE (Graduate Record Examinations) as an alternative. The American Bar Association recognizes GREs as a critical component of law school applications.
Like law school, medical schools have entry exams. Applicants must take an MCAT (Medical College Admission Test) before joining medical school. The MCAT is a multiple-choice test developed by the Association of American Medical Colleges. It is offered to applicants in all medical schools across the U.S.
The four-section exam takes about seven and a half hours to complete. It tests applicants on the biochemical and biological foundations of living systems and the physical and chemical foundations of biological systems. The MCAT also assesses the foundations of behavior, reasoning skills, and critical analysis skills.
Degree Completion Timeframes
The degree completion timeframes for law and medical school in the U.S. vary with the specifics of the course. Medical school takes longer to complete than law school. Here's what you should know about the doctor vs. lawyer discourse in terms of their degree completion timeframes:
Law School
You must complete an undergraduate program that takes two to four years before becoming a lawyer. You also need to pass the LSAT or GRE.
Once you pass the LSAT or GRE, you can enroll in law school or pursue a Juris Doctor (JD) degree for two to five years. A J.D. allows you to choose your preferred practice area from fields of law, such as criminal law, family law, tax law, labor law, environmental law, and civil rights law.
The final step in your law school education is to pass the American Bar Association exam. The exam tests your ability to apply legal knowledge in practice. It takes 400 to 600 hours to prepare for the bar exam.
You can apply for legal jobs after graduating from law school and passing the bar exam in Illinois. Your first job can be as an associate at a law firm. But with time, you can progress to the partner level or open your law firm.
Medical School
You must be capable of handling comprehensive coursework to join and graduate from medical school. Pursuing a medical career may take you as little as four years. The degree completion timeframe can also extend to 12 years, depending on your area of focus.
The first two years focus on completing pre-clinical coursework. You can split your time between attending classroom lectures and hands-on lab learning.
In year 3, you can start clinical rotations that involve hands-on training. Expect to spend most of your time in the hospital or clinic. Basic or core rotations cover medical specialties like pediatrics, family medicine, internal medicine, gynecology and obstetrics, radiology, neurology, psychiatry, and surgery.
Expect the clinical rotations to continue once you are in your fourth and final year. At this time, you will pursue electives that will boost your applications to residency programs.
In the fourth year, you can choose to complete sub-internships or audition rotations. Your supervisors will scrutinize and evaluate your performance. Audition rotations can strengthen your future recommendation letters and help you secure employment in the program once you graduate.
You will also prepare for your residency applications as you continue with clinical rotations. After choosing a preferred residency program, you must submit the applications before the deadline. Once you get notified of your residency match, you will be on the path of completing the remaining portion of your medical training.
Responsibilities of a Doctor and a Lawyer in Chicago, Illinois
Doctors are licensed medical professionals who help maintain and restore human health. They counsel patients on well-being and health, examine them, and review their medical history. Their work also involves diagnosing injuries or illnesses and administering treatment.
A lawyer is a licensed professional who offers legal advice and represents clients on legal matters. While law is a broad field, lawyers typically gather information, perform research, and draft legal documents, among other tasks.
Duties of a Doctor
You need counseling skills and medical knowledge to be a doctor. You should also know how to communicate effectively, have impeccable listening skills, and be compassionate. The reason is that the medical field requires professionalism and passion to treat patients and address their health concerns.
Succeeding in medicine also requires you to have time management and organizational skills. You should also be able to cope with change and make rational decisions.
Doctors usually handle conflicting demands and uncertainty while remaining calm.
Their responsibilities include:
Responding to a patient's medical problems by diagnosing, treating, counseling, and offering referrals where possible.
Liaising with other medical professionals in hospitals and the community.
Gathering, recording, and updating sensitive patient information.
Ordering laboratory tests and interpreting the results to patients.
Explaining prescribed treatments and procedures to patients.
Keeping up-to-date with the latest medications, medical developments, and treatments.
A Lawyer's Responsibilities
Lawyers often get hired for their analytical and research skills. As such, they should display sound decision-making and judgment. They also need to have exceptional communication and problem-solving skills.
You must be well-informed, professional, and determined for continued success in your law practice. You also have a legal duty to protect your client's rights while complying with the law. A legal recruiter can ensure your resume and application highlight your natural leadership qualities and public speaking, written, and interpersonal skills to help you secure a position at your preferred law firm.
As a lawyer, you will spend most of your time in the office drafting legal documents and working on legal research. You may also accompany your clients to the courtrooms, meet with clients, and negotiate with the opposing counsel.
Your duties and responsibilities in Chicago, Illinois, will include monitoring legal risk and advising clients on the acceptable risk assumption. You will also gather evidence, make court appearances, and interpret regulations, laws, and rulings to your clients.
You will also be responsible for ensuring adequate approvals are in place before executing documents, offering representation at mediation or arbitration hearings, and managing compliance-related and regulatory services. Other responsibilities include drafting, reviewing, and managing wills, deeds, contracts, estates, and trusts.