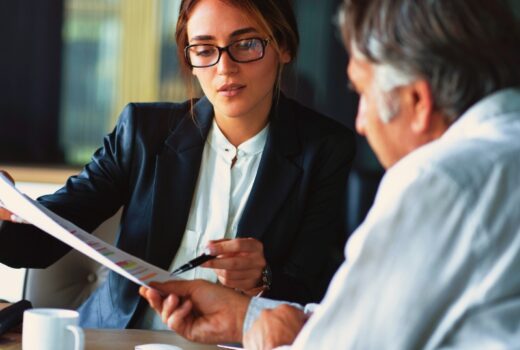 Knowing what kind of questions to expect during an interview can help attorney candidates prepare their answers and stand out from the sea of applicants. There are millions of Americans looking for work each year in the United States, and an average of over one hundred people can apply for just one available position. This includes the field of law, which has a more rigorous interview process to fill positions within a firm that might have multiple requirements, depending on which state the company is based in.
The potential for so many applicants can mean that there are multiple rounds of interviews for just one position. This number of potential applicants might be overwhelming prior to going into an interview, but being properly prepared can help a candidate with his or her confidence. Additionally, an applicant should do what he or she can to make his or her resume shine, and be prepared for a variety of questions. It's also important for the applicant to have a prepared set of questions that relate to the position and the duties that go along with it. This can help to set a potential applicant apart during the interview process, as it shows he or she has looked into the firm before coming in for an interview.
How to Prepare for an Attorney Interview
Preparing for an interview for an open position in a law firm has some of the same elements as other jobs, regarding personal life and past work experience. More intense questions will also be asked of the applicant that has to do with his or her schooling and any scholarly work he or she has done in the field. This can include asking the applicant's opinion or interpretation of different case laws, how they affect the field of practice, and how that affects the applicant's morals.
One way applicants can prepare for the interview is to prepare a list of reasonable questions that the firm might ask. This allows the applicant to prepare a natural but unrehearsed answer for any type of question that may be asked. Being calm and thinking through a reasonable answer during an interview can sometimes be better than what might traditionally be considered the "right" answer. It shows that the applicant can work through given information in a problem-solving manner, and form his or her own opinion to defend. The applicant should:
Provide personal information, as well as work experience on a lawyer's resume.
List any community work that the applicant has done, whether it pertains directly to the field of law or helps to show the applicant's personal interests.
Bring any papers that the applicant has published or submitted to show examples of his or her writing style.
Research the law firm before he or she goes into the interview so that he or she can prepare questions he or she might have to ensure the position will be a good fit.
Be prepared to follow up with the interviewer on their own with an email or a thank-you note.
An applicant that has recently passed the bar should also check to make sure that the position will fulfill the remaining requirements they might require for his or her license.
Being prepared for an interview may not guarantee that the applicant will get hired, but it will show the company how much the applicant cares. This can be important if the firm is well respected in the community, as the law firm will want anyone employed by them to represent them positively. To help show how professional a potential applicant is, he or she should make sure to dress as they would if he or she were going to court or to meet a client. Knowing how to prepare for a law firm interview can help you increase your chances of success.
What Kinds of Questions Do Law Firms Ask in Attorney Interviews?
Law firms will ask a variety of questions that could range from basic personal questions to different case laws that the applicant has studied. They might ask a combination of these types of questions in any of the rounds of the interview process. Personal questions could range from descriptions of the applicant's character to why they have chosen to live in the region the job is posted. This might include why the applicant has decided to practice law and what made him or her select this field of practice.
Questions might also include how the applicant feels about controversial cases or cases that deal with human rights violations. These types of questions are important for the company to ask as they will be interested in how the lawyer might respond to these situations in court, or have to explain the situation to a client in a way he or she can find relatable. Job-related questions could include past work experiences and challenges that the applicant has gone through in his or her life or at previous jobs, and how he or she overcame those challenges.
The potential applicant might have to explain gaps on his or her resume for either school or work experience, or due to personal reasons. During the interview, if these types of questions do arise, the applicant should try to not become defensive, but instead, be open in honest in his or her responses as this will look better than not answering the questions fully or avoiding them entirely.
Choosing the best legal recruiter to help with the hiring process can help a firm to streamline its interview questions to help find the best candidate for the position. Legal recruiters look at all possible candidates' resumes to help schedule interviews that will be a good fit for both the applicant and the law firm. This is why candidates should work with an attorney recruiter through the interview process, as they are a crucial process of a firm filling their open positions.
What Are the Top 3 Questions to Ask an Interview?
When an applicant goes into an interview, he or she should not only be prepared to answer any number of questions but should also have some questions prepared to ask as well. The three most important questions for a potential applicant to ask include:
What type of person is the organization looking for to fill the desired position?
Will there be any further training that will be provided to fulfill the duties of the job position that is being filled?
How can the work atmosphere of the law firm and office be described?
These questions can help both the applicant and the interviewer see if the position is a good fit for the candidate. It is beneficial for the applicant to know if he or she should continue on in the interview process, especially if there are multiple rounds. Lawyers of color might want to ask additional questions about the firm's position on policies that might affect how they are treated in the workplace. It is also important to know what the firm's position is on addressing complaints or problems that might arise for an employee, and how they resolve these issues.
Jobs are sometimes simply described in an ad in a way that attracts as many applicants as possible, but may not actually fit the applicant's needs. This is why it is crucial for applicants to have at least a few questions that can help them determine if they want to continue the interview process or decide that this job is not a good fit. If the applicant has decided early in the interview process that the job is not for him or her, he or she can move on to prepare for other available positions. Even if the applicant decides that he or she does not want to continue with the interview process, he or she might still follow up with a thank-you email to end the process positively and respectfully.