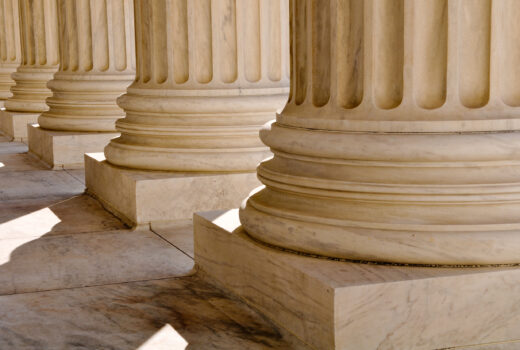 The American Lawyer released its annual A-List rankings of the top 20 "most well-rounded" law firms in the United States. Firms are ranked based on a combination of factors including revenue per lawyer, pro bono commitment, racial diversity, associate satisfaction and percentage of female equity partners.
Ropes & Gray ranked No.1 on this year's A-List. Climbing from last year's number two, the firm moved up thanks to high scores in revenue per lawyer, pro bono work, and number of female equity partners. Wilmer Hale climbed two spots to claim this year's No.2 spot with high scores in almost all categories. Slipping from 1st place last year, Munger Tolles landed spot No.3, declining in all categories, particularly in the female equity partners category. Orrick Herrington moved six spots to claim 4thplace, thanks to high scores in pro bono, associate satisfaction and female equity partners.
New firms added to this year's A-List rankings included Morrison & Foerster (No.11), Patterson Belknap (No.17), Morgan Lewis (No.18), and Jenner & Block (No.19). A few firms on the list made last year's Top 20 but faced shortcomings in vital areas, forcing them off in 2018. Those firms included Gibson Dunn (No.22), Hughes Hubbard & Reed (No.29), and Manatt Phelps & Phillips (No.30).
Additionally, The American Lawyer released a list of the next 20 A-List firms (No. 21-40), The A-List Runners-Up. Washington, D.C.-based Buckley Sandler jumped 25 spots to land 26th place, due to large improvements in RPL, female equity partners, and associate satisfaction. Appearing for the first time on this list, Arnold & Porter Kaye Scholer claimed 31st place, thanks to an impressive score in the pro bono category. Dechert climbed 10 places to land the 34th spot on this year's list, due to increases in its associate satisfaction and diversity scores.
See highlights from the full article on The American Lawyer.
Contact Bill Sugarman for more information.